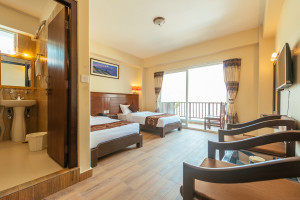 Lakeside Pokhara harbors a number of different hotels for tourists around the world. If you are a low-budget traveler, you might feel challenged to find the best hotel by the lake deal in Lakeside Pokhara. The reason is: the rules and terminology of finding the best hotel are way too complicated and confusing. No matter how smart you may think you are, you might still lose the puzzling game. However, keep in mind that all hotels are different and some are more flexible in price under certain circumstances. Here are best tricks to get the best hotel deal in Lakeside Pokhara:
Ask for a cheaper rate
The hotels of Lakeside Pokhara often run promotions and offer discounted packages on special occasions like New Year, Dashain, Christmas, Valentines' Day, etc. So as a smart dealer, your job is to enquire whether they have any of such offers at the moment of booking. Sometimes, they do provide special discount for family, couples, corporate, senior people, regular customers and members.
Book online
There is a unique benefit in online-booking of a hotel. The hotel websites are always up-to-date with offers and promotions which change on daily basis. In order to book the best hotel at the cheapest rate, make sure to regularly keep an eye on the web-booking rate.
Filter by price
If you want to save good money on room-booking, you must filter all the hotels by price to see which one best fits you in terms of price. However, also try to get some other information. If you want a nice room by the lake, make sure to ask about location, quality of the hotel and general facilities too so you don't get disappointed at the end.
Be flexible
The rates of Lakeside hotels of Pokhara are flexible depending upon different times and occasion of the year. The hotels are the most expensive during peak seasons which run from the month of September through November. If your goal is to make an economical trip, you might want to schedule the trip at a different time of the year instead.
Grab a last-minute deal
Most experienced tourists often use this trick to book hotels at the best price. The hotels become more flexible in negotiating rates if they have rooms vacant during last-minute of the day. So be flexible enough to hang out around the beautiful city until you see a great rate for the hotel you want.
Grab a package
You can save big bucks by grabbing a package deal. There are many travel and tour planners in Pokhara who will offer you package deals. For instance: a package of airfare and hotel in lakeside Pokhara. You may not have a flexibility of choosing the best airfare and the best hotel with such a package. But you will be happy with a huge discount.
There are many hotels which offer you nice view in Lakeside Pokhara. But it is your job to find out which hotel or room also offers you the best rate at the same time. Follow the tricks above and grab your best hotel deal!