Trekking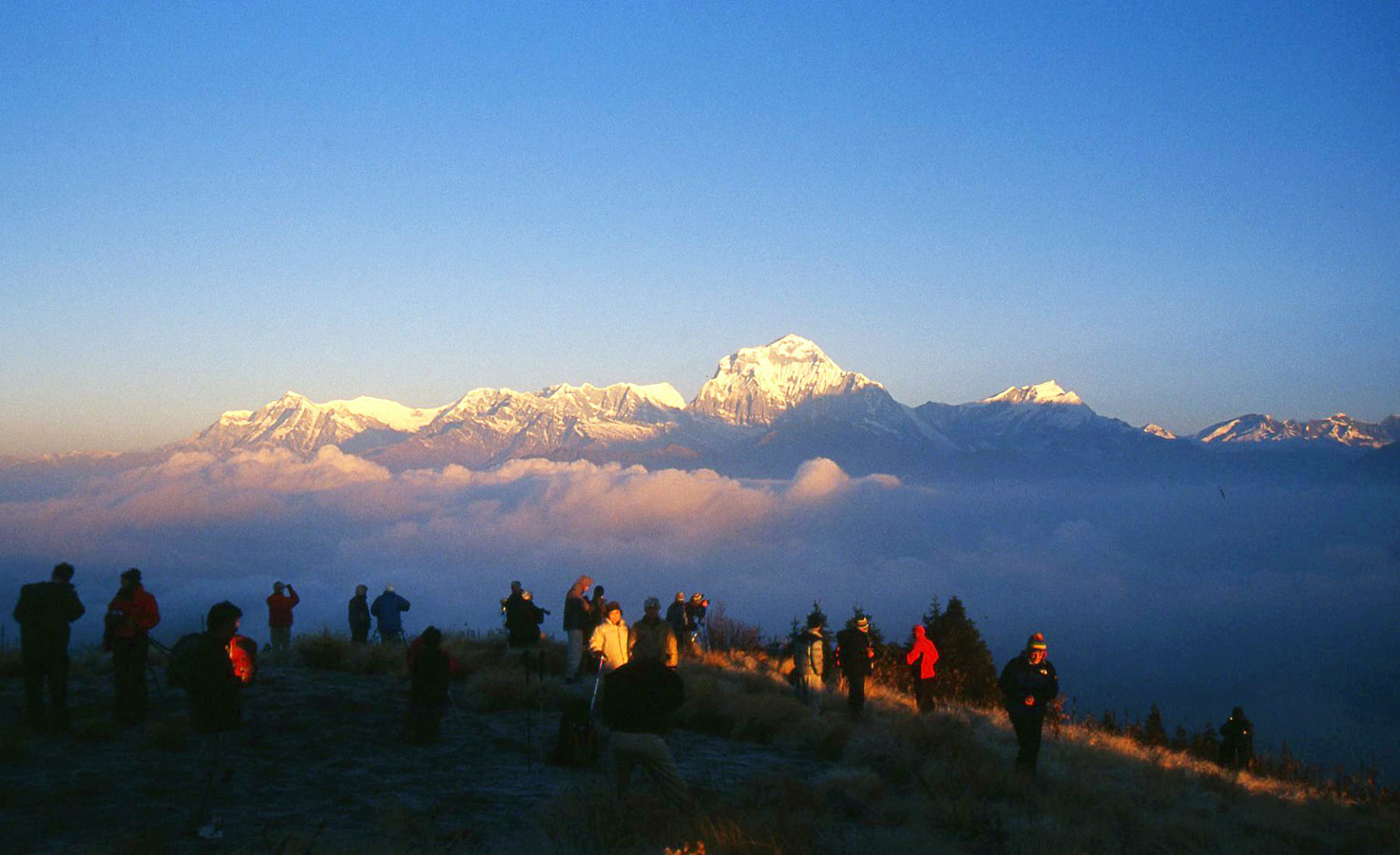 1. Ghandruk/Poonhill – 3 Days Trek
Ghandruk-Ghorepani-poonhill trek has been the most preferred route among all our trekking routes. The breathtaking mountain scenery and the beautiful ethnic village life justify the popularity of this trek. It's one of the easiest trek with walking paths along streams and forest; for peoples who want to spent time close to nature. This trip can be done all year round and is also very suitable for people without any hiking experience and of all ages. Ghandruk village, a traditional and famous village in the country is the main attraction of this route. Moreover, dense rhododendron forest of Ghorepani is another reason that makes the route more famous. In March-April season, this route looks almost red-like-carpet due to the blossoms of rhododendron.
Outline Itinerary:

Day 1: Pokhara to Kimche (2.5 hrs) by jeep trek to Tadapani via Ghandruk. (1940m 4hrs.)
Day 2: Trek to Ghorepani (2860m, 5 hrs.)
Day 3: Hike up to poon hill (3210m, 1.5 hrs)and trek to Tikhedhunga.
(1570m/3hrs) then drive to Pokhara by jeep (2.5 hrs)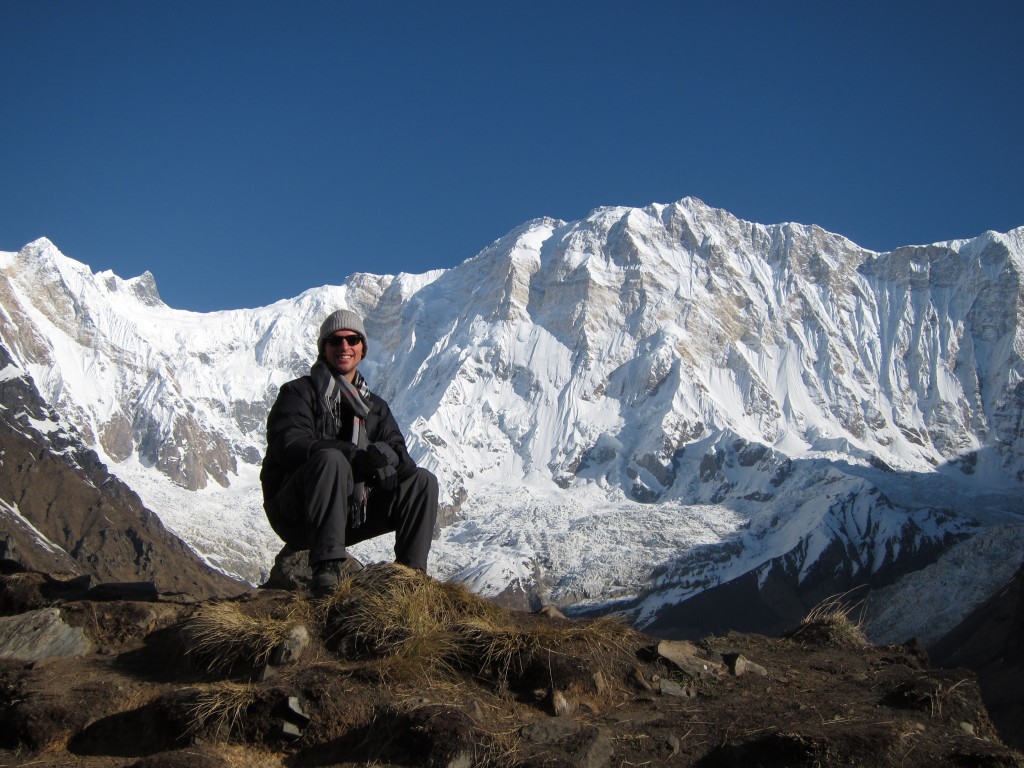 2. ABC Trek – 6 days
Annapurna Base Camp Trek is one of the best treks in the world, offering the chances to observe and explore the typical Nepali villagers and their traditional way of life. The Annapurna Base Camp route goes passing through spectacular and tranquil landscapes, charming Gurung and Magar villages, Lush Green Rhododendron forests, Bamboo and alpine forests and to the trip's last and Final destination, Annapurna Base Camp at the height of 4130m (13546ft)
Outline itinerary:
Day 01: Pokhara – Siwai by jeep (1525m, 2.5 hrs) and trek to sinwa 4hrs
Day 02: Sinwa-Deurali (3230m, 6hrs).
Day 03: Deurali-ABC (4300m, 5 hrs).
Day 04: ABC- Dovan (2630m, 4-5 hrs).
Day 05: Dovan- Jhinu danda(1780m, 5hrs).
Day 06: Jhinu Danda-Siwai 2 hrs then by jeep to Pokhara.
3. Poon hill & ABC trek – 8 days
Outline itinerary:
Day 1: Pokhara to Tikhedhunga (2.5 hrs) by jeep and trek to Ghorepani (2860m, 4hrs)
Day 2: Hike up to poon hill (3210m/1.5 hrs) and trek to Tadapani (6 hrs)
Day 3 : Tadapani-Sinwa (6 hrs)
Day 4: Sinwa-Deurali (3230m, 6 hrs)
Day 5: Deurali-ABC (4130m, 5 hrs)
Day 6: ABC- Dovan (2630m, 4-5 hrs)
Day 7: Dovan-Jhinu danda (1780m, 5 hrs)
Day 8: Jhinu Danda-Siwai 2 hrs then by jeep to Pokhara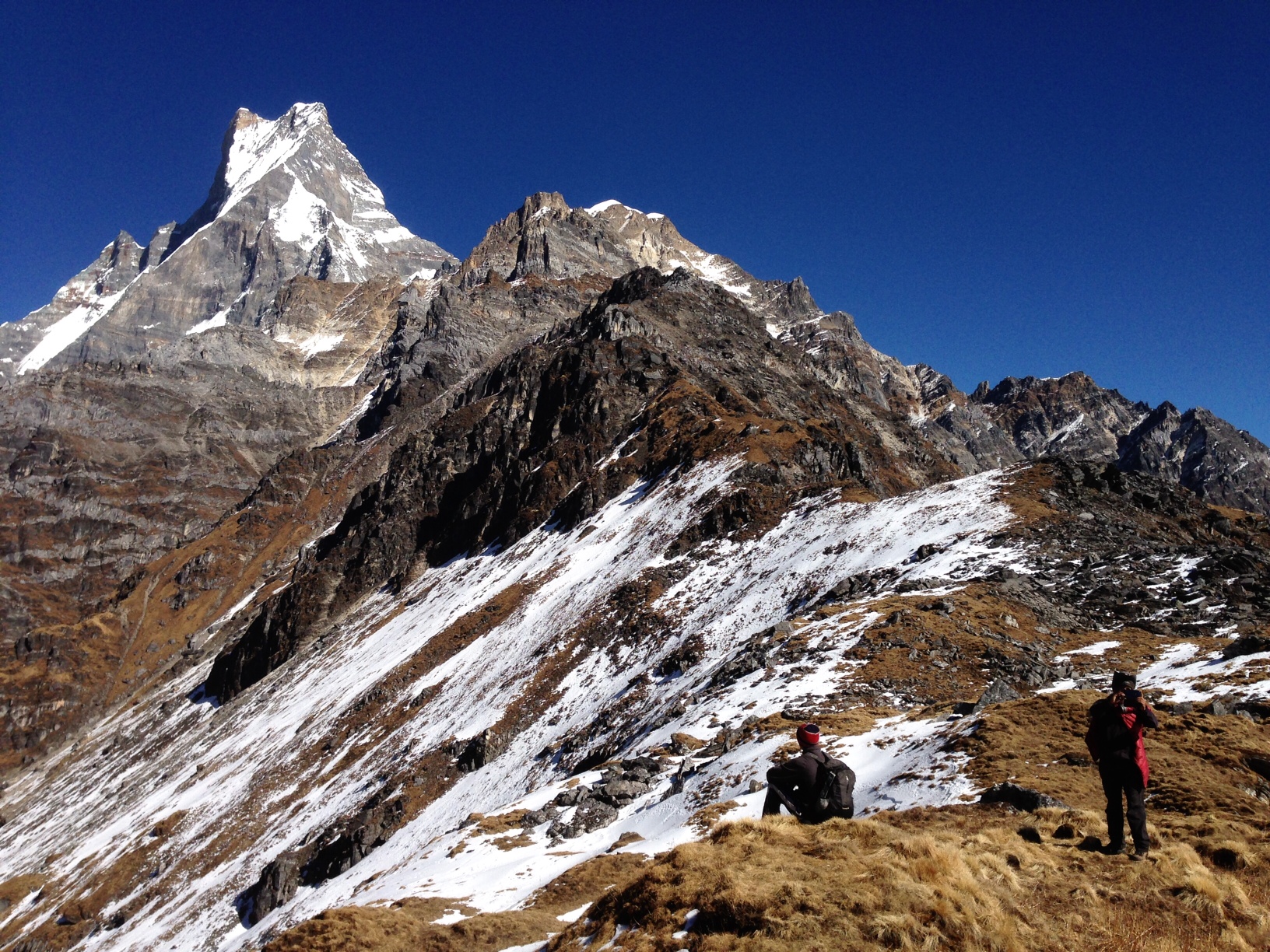 4. Mardi Himal Trek 5- Days
The Mardi Himal trek is one of the unspoiled trekking trails in Nepal. The trek is considered to be an ideal introduction to mountaineering in the high Himalaya, particularly, if you have limited time available. The trek offers superb Himalayan range, Hiunchuli, Dhaulagiri, Fishtail (the holy mountain of Nepal) mixed culture, Lush valley, and beautiful landscape.
The route consist of trail that mostly go along the top ridges of hills passing through villages, dense Rhododendron forest, raging rivers and Mardi Base Camp at the elevation of 4600 meters. Mardi Himal Trek offers the opportunity of an excellent cultural experience and adventure. Mardi Himal Trek is definitely the superior destination for those who would like to experience the beauty of peaks and high hills trekking in Nepal.
Outline Itinerary:
Day 1: Drive to Dhampus from Pokhara then trek to Pothan Deurali (1900m, 5-6 hrs)
Day 2: Trek to low Camp (3100m, 5-6 hrs)
Day 3: Trek to High Camp (3900m, 4 hrs)
Day 4: Explore the view point (4500m) overnight in High camp
Day 5: Trek to siding (1760m, 5-6 hrs)
Day 6: Siding to Pokhara by jeep 4 hrs
5. Annapurna Circuit Trek-10 days
The classic 10 days Annapurna Circuit Trekking is also well known as Round Annapurna Trekking via Throng La Pass Trek; has been so popular among trekkers. The region is considered to be one of the world's greatest trekking routes. The Annapurna mountain range of central Nepal with the total length of the route varies between 160 – 230km (100 -145mi), depending where the motor transportation is used and where the trek is end. The trek rises to and altitude of 5416m on the Throng La pass, touching the edge of the Tibetan plateau. Annapurna Circuit Trek route crosses to different river valleys and encircles. The Annapurna massif, crossing Throng La Pass (5416m), the highest pass on this trail. Basically all trekkers hike the route counter clockwise, as then the daily altitude gain is slower and crossing the high Throng La pass is easier and safer.
Outline Itinerary:
Day 01: Drive to Chamje from Pokhara/Kathmandu and trek to Tal (1800m)
Day 02: Trek to Danakyu (2210m)
Day 03: Trek to Chame (2700m)
Day 04: Trek to Pisang (3200m)
Day 05: Trek to Manang (3400m)
Day 06: Excursion day around the Manang village
Day 07: Trek to Yak Khark (4020m)
Day 08: Trek to Thorong Phedi (4500m)
Day 09: Trek to Muktinath (3810m) via Thorong-La Pass (5,415m)
Day 10: Drive to Pokhara (2800m) after Muktinath temple excursion
6. Upper Mustang Trek-12 days
Mustang trekking is one of Nepal's most mysterious and least known adventures. The landscape of Mustang is a barren moonscape of eroded sandstone pillars and discontinuous moraine terraces, which together present a colorful mosaic made up principally of earthen reds, yellows and brown. It is relatively easy trekking along the permitted route to Lo Manthang which lies in the very heart of Mustang. The trek to Mustang is through an almost treeless barren landscape but winds generally blow across the area in the afternoon, subsiding at night. Being in the rain shadow of the Himalaya, Mustang has much less rain then the rest of Nepal.
The area covered by this trek is perhaps the last enclave of pristine Tibetan culture. Forbidden and isolated from the rest of the world it was able to evolve its own distinctive culture and tradition, which is so rich and unique. The capital of Lo-Mustang is a walled city ruled by a religious king. Untouched by modern civilization, life in Mustang goes on as it has for centuries at an unhurried place. As everywhere in the Himalayas, this area provides spectacular mountain scenery highlighted by Dhaulagiri at 8167m (26,795ft) and Annapurna l at 8091m (26,545ft). You will be surrounded by more than 35 mountains over 6000m (19,680ft) high. The elevation of the trails rise from 2815m (9,233ft) to 3780m (12,398ft) above sea level.
Outline Itinerary:
Day 01: Pokhara /Jomsom (2720m) by flight or jeeo drive to kagbeni (2810m)
Day 02: Trek to Chusang or Chele (3050m) via Tangbe
Day 03: Trek to Gilimg (3570m)
Day 04: Trek to Ghami (3460m)
Day 05: Trek to Charanag (3560m). Explore monasteries and villages
Day o6: Trek to Lo Manthang (3730m)
Day 07: Excursion around Lo Manthang. Visit the villages, monasteries and the king's place
Day 08: Hike up to choser or Namgyal Monastery
Day 09: Trek to Ghargomba, Visit the monastery
Day 10: Trek to Chele
Day 11: Trek to Jomsom
Day 12: Jomsom to Pokhara by flight or jeep