(max – 6 pax)
1. One day tour:- Pokhara /Sarangkot/Dhampus/Pokhara.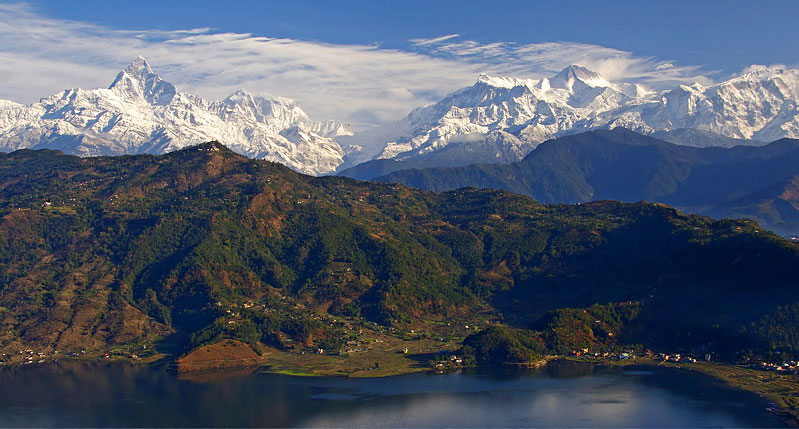 Sarangkot is a village and famous tourist destination of Nepal located inside Sarangkot Development Committee in Kaski District Gandaki Zone. At the time of the 1991 Nepal Census it had a total population of 5,060 with 1,010 individuals' households.
The village is located on a mountainside ridge at an altitude of 1600m with panoramic Himalayan views. From Sarangkot on the northern direction we can see Dhawalagiri in the far west. Annapurna range is visible when the weather is clear on same side. On the southern direction the village overlooks the city of Pokhara and its lake.
Dhampus Hiking route is also a gateway to Annapurna Conservation Area. The Place also serve as one of the main entry points to Annapurna Base Camp and to other trekking trails of the Annapurna Region. The village ranges from an altitude of 800m at the base to 1600m.
The journey to Dhampus village, one of the paradises of Nepal, begins from Sarangkot village, about an hour drive. When you emerge from the forest and reach Dhampus, you will be able to marvel at exceptional view of the massive Mt. Machhapuchre. Popularly known as Mt. Fishtail (6900m) for its peak resemble the shape of fish's tail. From Dhampus can also grab an exceptional view of Pokhara and the scenery gets even better as the sun goes down. The small village comprise of enormous beauty of mountains, friendly Gurung people, a small lake from where one get the reflection of Mt. Fishtail, flowers, mustard fields, birds, and many more.
2. 2 Night/3 Days (Sirubari Home stay tour)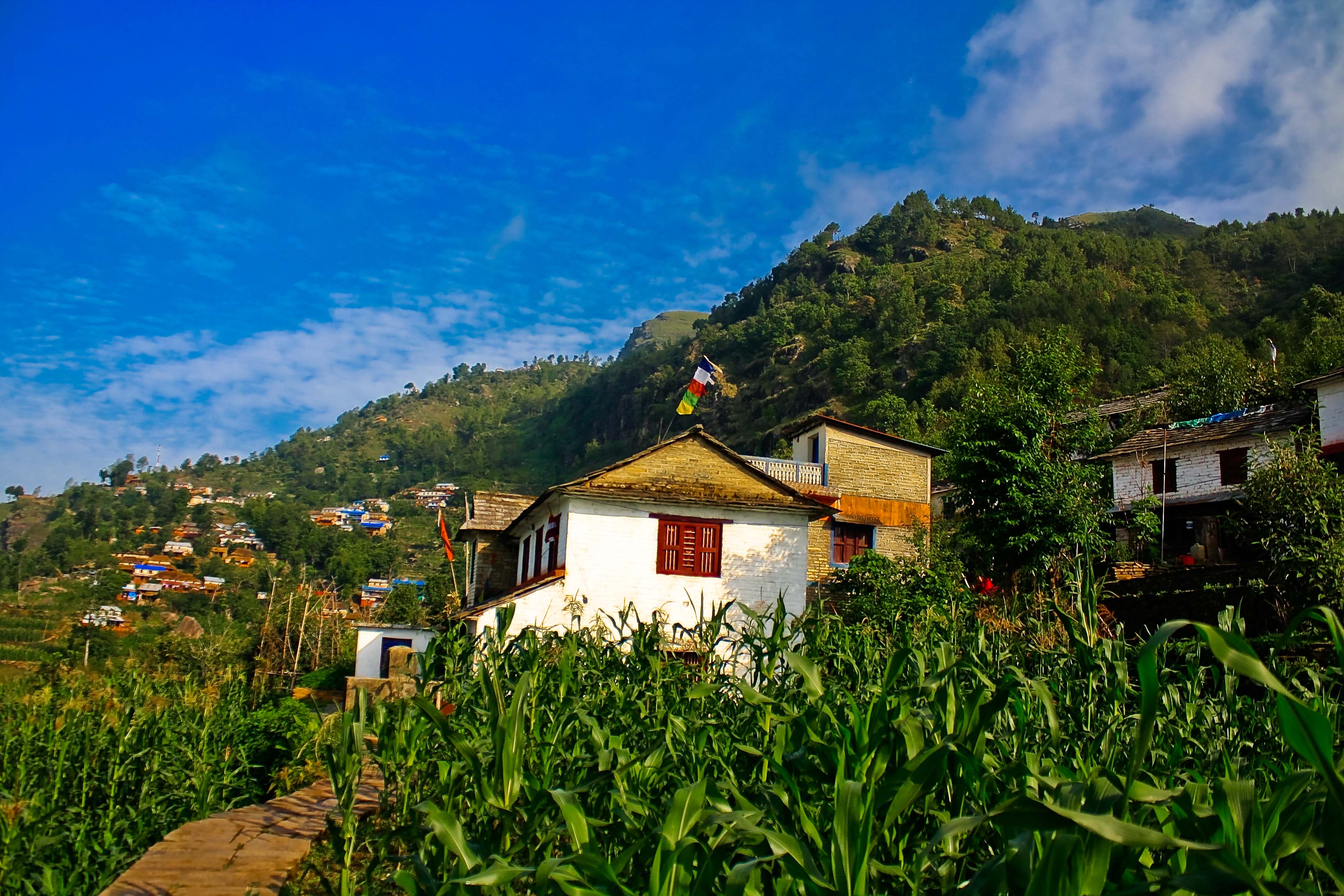 Village tourism, a recent innovation, is successfully demonstrated at Sirubari in Syangia a four hours jeep drive distance from Pokhara. It is a very neat and clean village, the accommodation is simple, but comfortable, with good bedding, as well as clean toilet facilities. Meals of daily fresh food are eaten with the family and each evening there is entertainment provided by the community, which is usually Gurung dancing and singing.
It has a vibrant Gurung culture of Buddhist, Hindus or Shaman. Trails and steps are formed and paved, and many shrines and pilgrimage sites dot the landscape. Sirubari won the PATA Gold Award 2001 in the Heritage & Cultural Heritage Category. Bhujung is a Village development committee in Lamjung District in the Gandaki Zone of northern- central Nepal. At the time of the 1991 Nepal census it had a population of 1621 people living in 339 individual households. Bhujung, the largest Gurung settlement in Annapurna Conservation Area, is located at an altitude of 1600 meters from sea level in North West of Besisahar, Lamjung is located at an altitude of 1600 meters from sea level in North West of Besisahar, Lamjung. The major occupation of the local people are agriculture and livestock farming. Apart from this majority of youths are engaged in overseas employment.
Major Attractions: One village-One VDC, Unique mode of Settlement, Organic local foods, Warm hospitality of Gurung Community.
Scenic Views: Kaiyo water fall, Lamjung Himal, Honey Hunting
Cultural Features: Ghantu Dnce Krishna Charitra-Serka Dance. Monastery, Gurung Museum, Day Care Center Micro hydro Electricity, Community Meeting Hall, Tea Garden, Rope ways.
Access: It takes around four hours (2 hours' drive and 2 hours walk) from Besisahar, Lamjung. The next route is 3 hours' drive from Besisahar via khudi, then along with Ropephant, Nayu and Ghan Pokhara and after that it takes 1:30 hours walk to get Bhujung. One can reach Bhujung about 8 hours by walking Besisahar through Bagling pani, Kapur gaon and Ghale Gaon.
Outline itinerary:
Day 01: Pokhara to bhujung (7 hrs jeep drive)
Day 02: Explore Bhujung vlllage..
Day 03: After Breakfast 8:00 am jeep drive back to Pokhara/Kathmandu 8 hrs.
3. 2 Nights/3 Days (Jomson/Muktinath Pilgrimage tour)
Muktinath is sacred place both for Hindus and Buddhists located in Muktinath Valley at an altitude of 3,710 meters at the foot of te Thorong La mountain pass (part of the Himalayas), Mustang ,Nepal . The site is close the village of the Ranipauwa, which is sometimes mistakenly called Muktinath as well.
Within Hinduism, it is called the sacred place Mukti Kshetra, which hliterally means the "place of liberation or moksha ". This temple is considered to be the 105th among the available 108 Divya Desam, which are considered sacred by Sri Vaishnava sect. The ancient name of this place in Sri Vaishnava literature, before Buddhist origin, is Thiru Saligram. This houses the Saligrama shila considered to be the naturally available form of simran Narayan –the Hindu Godhead. It is also one of the 51 Shakti peethams. The Buddhists call it chumig Gyatsa, which in Tibetan means 'Hundred Waters'. Although the temple has a Vaishnavya origin, it is also revered in Buddhism. For Tibetan Buddhists,Muktinath-Chumig Gyatsa is very important place of Daknis goddesses Known as Sky Dancers and one of the 24 Tantric places. They understand the Murti to be a manifestation of Avalokitesvara.
Outline itinerary:
Day 01: Pokhara/Jomsom (8 hrs Drive)
Day 03: Jomsom/Pokhara (8 hrs drive)
4. 2 Nights/3 Days ( Barpak EP center tour)
Barpak is a village situated in the northern part of the Gorkha district of Nepal, in the Warpak village development committee. It is inhabited by Ghales, Sunwas, pariyars and others.
There are more than 1,200 houses in the village. There is 24-hour electricity, internet facility, basic medical service, good hotels and the village can be reached by direct bus transportation from Kathmandu except in rainy season. Barpak is situated upon the hilltop about 1,900m (6,200ft) above sea level of Gorkha and approximately 45 km (28 mi) away from Gorkha Bazar. There is a agravelled road from Abu Khaireney running on the bank of Darauti River to Barpak which extended to Laprak, Gumda and so on. Barpakhas nearly 1200 households and nearly 15000 residents. There are small number of Kami, Damai and Sunwar (Dalit Tribe) in the village serving the community from generation to generation.
The village was badly affected by an Earthquake on 25 April 2015. Being close to the epicenter and lodge to a steep hillside the village was extremely hard hit by the April 2015 Nepal Earthquake. Report says only less than 10 of 1200 homes remain standing
Barpak has its unique historic significant despite its isolation from mainstream politics and bustling cities. Its natural beauty has melted many hearts and drawn many people from around the world. It has been visited by German Chancellor Dr. Roman Herzog in early 1997. Science teacher MR Mickey Gordon is one of the admirers of Barpak; who has been visited Barpak year after year for over 23 years and has helped rebuild the village school. Barpak has attracted state television which telecast a documentary about Barpak . The unique sloppy shape of village with clustered stone tile-roofed houses believe to be the main reason behind the attractions to the people wishing to visit Barpak once they have been seen pictures of Barpak. Barpak is one of the stopover village route of trekking around Manaslu.
Outline itinerary:
Day 01: Kathmandu-Barpak (7 hrs drive)
Day 02: Explore- Barpak
Day 03: Barpak-Pokhara (6 hrs drive)
5. 6 Nights/7 Days (Upper Mustang Tour)
Mustang trekking is one of Nepal's most mysterious and least known adventures. The landscape of Mustang is a barren moonscape of eroded sandstone pillars and discontinuous moraine terraces, which together present a colorful mosaic made up principally of earthen reds, yellows and brown. It is relatively easy trekking along the permitted route to Lo Manthang which lies in the very heart of Mustang. The trek to Mustang is through an almost treeless barren landscape but winds generally blow across the area in the afternoon, subsiding at night. Being in the rain shadow of the Himalaya, Mustang has much less rain then the rest of Nepal.
The area covered by this trek is perhaps the last enclave of pristine Tibetan culture. Forbidden and isolated from the rest of the world it was able to evolve its own distinctive culture and traditional which is so rich and unique. The capital of Lo-Mustang is a walled city ruled by a religious king. Untouched by modern civilization, life in Mustang goes on as it has for centuries at an unhurried place. As everywhere in the Himalayas, this area provides spectacular mountain scenery highlighted by Dhaulagiri at 8167m (26,795ft) and Annapurna l at 8091m (26,545ft). You will be surrounded by more than 35mountains over 6000m (19,680ft)high. The elevation of the trails rise from2815 m(9,233ft) to 3780m(12,398ft)above sea level.
Outline Itinerary:
Day 01: Pokhara /Jomsom (2720m) by 4 wheel drive jeep
Day 02: Jomsom via Chusang (3050m), Gilimg (3570), Ghami (3,460m) 7 hrs jeep drive
Day 03 Ghami via Charanag (3560m) to Lo Manthang (3,730m) 6 hrs jeep drive
Day 04: Excursion around Lo Manthang.Visit the villages,monasteries and the king's place.
Day 05: Lo-Manthan to Chusang 7 hrs jeep drive
Day 06: Chusang to Hotspring (Tatopani) 6 hrs
Day 07: Tatopani to Hotel The Coast 5 hrs drive