World Peace Pagoda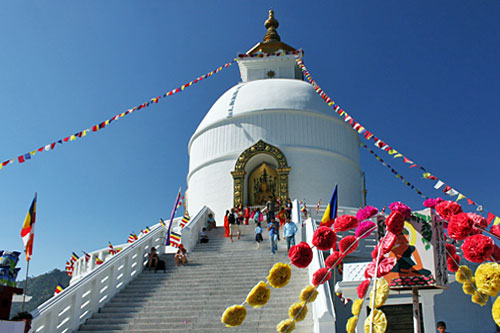 World peace Pagoda, a massive Buddhist Stupa is situated on the top of a hill on the southern shore of the Phewa Lake. Besides being an impressive sight in itself, the shrine is a great vantage point which offers spectacular views of the Annapurna range, the Phewa Lake and the Pokhara City. You will climb the Raniban forest after crossing the suspension bridge. Within a 2 hours walk you will reach the Stupa where you can enjoy the spiritual and scenic beauty. Climbing down from the Peace Pagoda is more enjoyable with great views of the Phewa Lake and the mountains. Here you will cross the lake after 20 minutes of boating with a visit at the island temple ( Barahi Temple) in the middle of lake.
Australian Camp
The starting point of the day hike is Dhampus which you can reach by 1 hour jeep drive from Pokhara. It takes 2 hours gentle climb from Dhampus to the Australian Camp.
This trip can be done all year round and is also very suitable for people without any hiking experience and people of all age. The highest point is around 2000 meter.
It will give you a great impression of the Himalayas in all her magnificence. From sunrise to sunset the colors will keep on changing offering the most incredible views. You will hike through dense forests, along the hillsides and through mountain villages where we will stop for drinks and lunch. Leaving Australian camp you descend to Kande for around 2 hours where a car or bus will take you back to Pokhara.