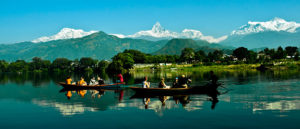 There are amazing benefits of staying at a hotel by the lake.Fewa lake is the heart of Pokhara. And who can live without a heart? Whether you are an internal tourist or international tourist visiting Pokhara, you can't resist being around the magnetic lake. And that's what keeps you beating and make you feel alive when you are in Pokhara. The weather around here is cool enough to ensure a delightful stay in Lakeside Pokhara. For nights, there are numerous hotels and rooms by the lake where you can stay with peace of mind.
Find out 4 amazing benefits of staying at a hotel by the lake:
Enjoy Nice View

Once you book a hotel in Lakeside Pokhara, take advantage of witnessing the nice view of nature close to your eyes. Witness the incredible mountain ranges standing around the Fewa lake. Choose a lakeside hotel that also offers you a rooftop and get a more expansive view of the beautiful city.
Hire A Boat

A room by the lake gives you easy access and convenience to go out anytime, hire a boat and have fun rowing in the lake. The good thing is you won't have to travel a long distance or set a difficult schedule to be able to hire the boat. Simply walk out of your room and quickly grab a boat whenever you want. Boating is, in fact, the best way to get a closer look on those giant Annapurna and Machhapuchare peaks. You will clearly see them being reflected in the water while rowing the boat.
Feel Like Home

They say that nature is our true home. Choosing to stay in a hotel by the lake certainly, means that you are choosing to stay in nature where you can truly feel home. The entire atmosphere in the hotels of Lakeside Pokhara awaits to give you a homely treatment. Apart from nature, the friendly and responsive hospitality will also embrace you like a family member.
Stay In Comfort

The rooms by the lake in Pokhara are real comfort zones. Don't worry about modern facilities even though it is a natural place. In order to suit the visitors from different countries and backgrounds, the hotels are ready to serve you with facilities to suit your varied needs. Besides, deluxe and suite rooms, the hotels also offer fine restaurants, cultural shows, swimming pool, bar, conference rooms and shops for your convenience. Here, you can enjoy the beauty of nature without losing your habitual touch with modernity. Isn't that awesome?
These are the key benefits of staying in a room by the lake in Pokhara. If you were wondering how it feels like to stay in such a room before, now you know it. It's all about enjoying a nice view, having easy access to a boat, staying comfortably and feeling like a true home. So if you visit Pokhara and want to relax, book one of the best hotels by the lake.